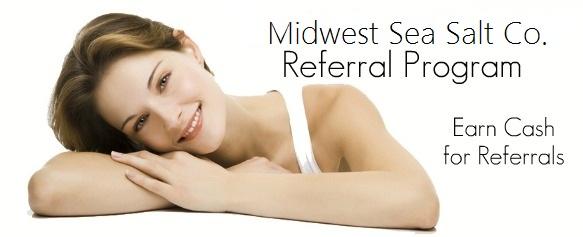 The Midwest Sea Salt Company is one of the largest bath & body products companies in the world, because of customers like you. Therefore, we created a rewards program to show our appreciation for the business you bring us.
You will earn 10% of the referred customer first purchase in a cash reward every time you send us a referral that makes a purchase.
STEP ONE:
Sign up for our referral program using your Facebook account. (it's completely free.) You will get your own referral corner where you can track your referrals and payouts.


http://themidwestseasalt.referralcorner.com/
STEP TWO:
Once you sign up you will receive a 10% off coupon code to send to your friends and family. You will have your own personalized link to give to people that you want to refer to us.
STEP THREE:
Once your friend or family member go to our website and makes a purchase using the coupon code you gave them you will get an email stating that you referred a customer to us. You can either receive 10% of there purchase in cash or we will donate it to a charity of your choice.

It's that simple. You just earned 10% of this customer's first purchase.